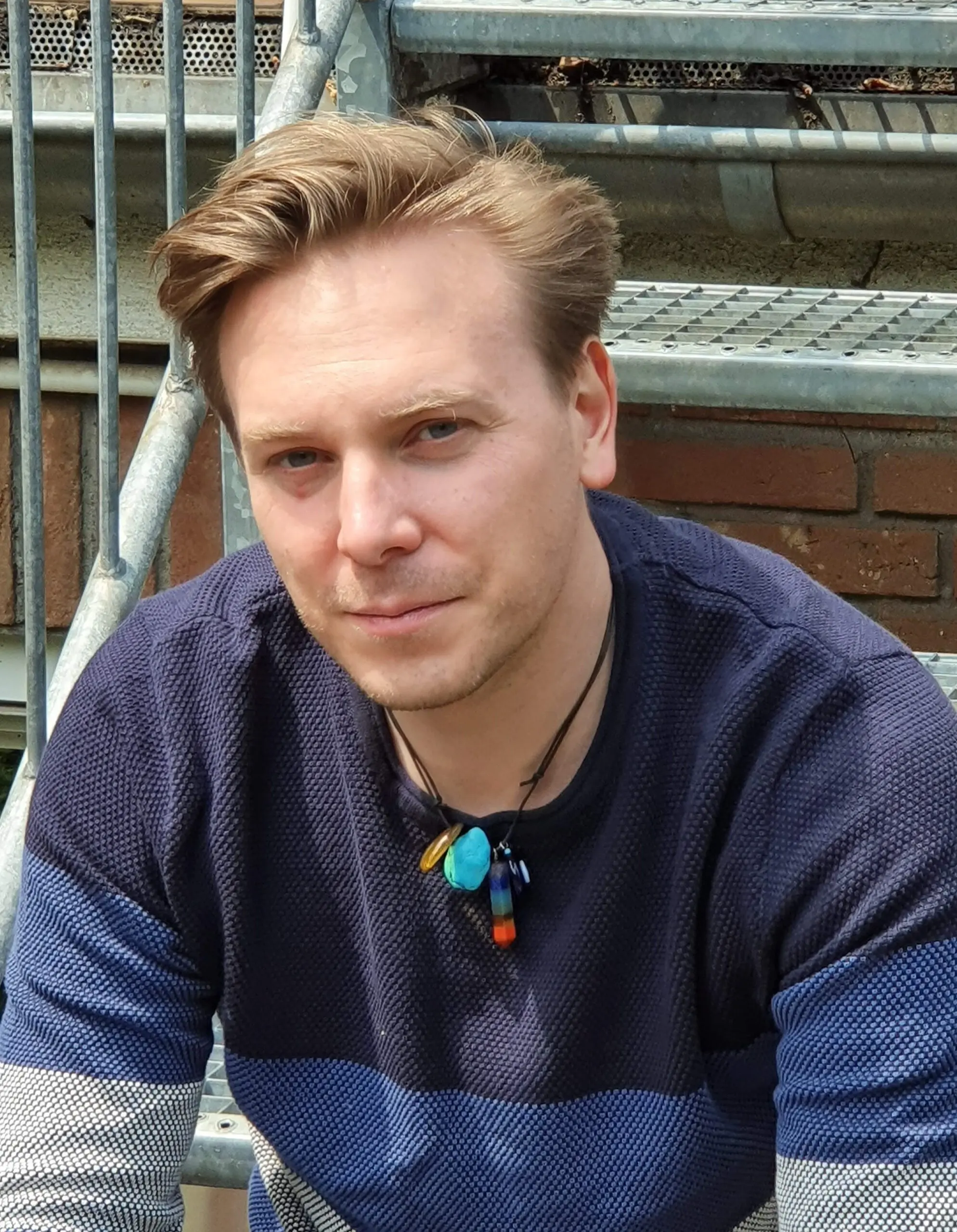 I was born on February 20, 1988 in London / Westminster as the son of my German father Dr. rer. nat. Harald Hubbes and his French wife, Mireille. In 1991 we moved to Germany, and I spent my youth in Frankfurt and Cologne, where I graduated from the bilingual Gymnasium Kreuzgasse in 2008. During my school years I also spent a year at Glenalmond College in Scotland. This stay contributed significantly to my later decision to pursue a career as an artist. Before I finally decided to study art, I studied geophysics in Münster and mathematics in Cologne for a few semesters. When I enrolled at the Academy of Fine Arts in Utrecht in 2013, I finally decided on art. I studied at HKU until May 2015 and then decided to develop my personal style independently. Today I live in Cologne and have my studio there.
I paint in acrylic, oil, and watercolor, using multimedia elements. My pictures are an expression of my subconscious and I therefore like to call them "brooding pictures".  I don't ignore anything: magic, horror, mysticism, symbols, fractals, the obvious, the hidden, life, transition, and death. In my pictures I try to approach the unspoken and enigmatic. This includes my concern for climate change and marine pollution. The overarching theme of my art could be "Fantastic Worlds" or "Psychedelic Moments".
In doing so, I place high demands on the viewer. The viewer is constantly challenged by the "brooding pictures", his eye never comes to rest, because he always discovers new motifs.
My pictures can be recognized immediately by their special style, and I am also in constant development in terms of motifs and technology.
I have recorded the following successes so far:
-2nd Price Artavita – New York 2021
48th Artavita online competition with works published in the 8th edition of the World-Wide-Art Magazine and on the Back Cover.
– Finalist Certificate
Circle of Arts, December 2020
"Art Ideal" Magazine Competition.
– Finalist Circle of Arts June 2020
Magazine Edition 5
– Artya Price Art Tour International, 2020
– 3. Price of Visiotors, Art & Design, 27th January 2020
Ausstellung Art-Sow Paris IV
I have exhibited as only artist at the following exhibitions:
2017 Kunstraub99 – Aachener Str. 1002, 50858 Cologne
– 2018 Lauf der Seele, Kunstraub99
2019 Neue Wege, Kunstraub99
2018 Universität Klinik 18.10.2018 – 3. Januar 2019
I participated in the following exhibitions -Excerpt - :
With McCenavie, 13 Rue du Colonel Raynal, 93100 Montreuil, France:
2019 Art Expo New York, New York
2018 und 2019 Art Shopping Carroussel du Louvre, Paris, France
2019 Salon Art3F Brussels, Brüssel, Belgium
2019 und 2021 Salon Spectrum Miami, Miami, USA
2021 Art Shopping Carroussel du Louvre, Paris, France
2019 III Biennale di Arte Della Versilia – Artexpertise – Stiava LU, Italy
2020 "Extended Bodies" – Itsliquid – London, United Kingdom
2021 "Futures Landscapes" – Itsliquid – Borders Art Fair, Venice, Italy
2020 LDXartodrome Perugia, Italy
2020 LDXArtodrome, Malta
2021 LDXArtodrome, Gallerie Opening in Bad Mergentheim, Germany
2021 Marziart International Galerie, Hamburg